LUT
Tour Blog
Photos
News
Info
Itinerary
Register
Riders
Equipment
Training
Charity
Links
Forum
Guestbook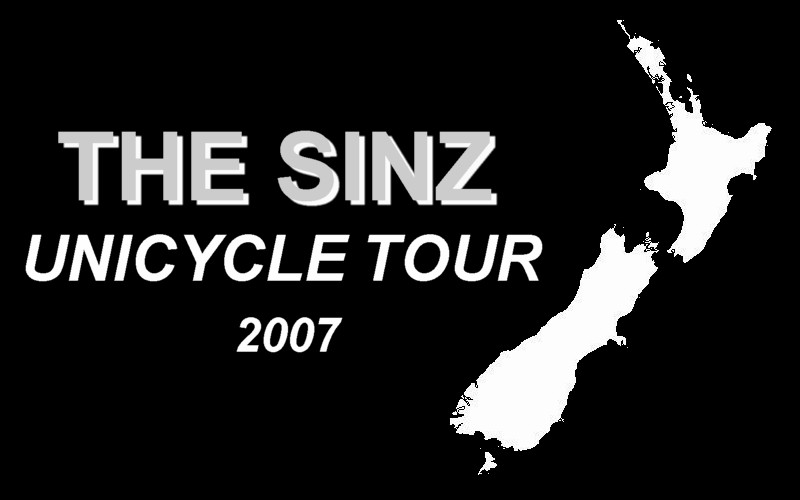 Day 8 Kasi to Vang Vieng (58km)
by Tony Melton
6am start with a breakfast choice of fur or fried rice. I opt for the former and again am only able to eat the noodles – not the funny veggies in it. Most of my aches and pains had gone, except for the tendon in my right archilles heel. I rubbed Voltaren anti-inflammatory gel on it before and after breakfast. At 58 kilometres long this day should have been a doddle - for me it turned out to be anything but.

The first hour of the day's riding was misty and cool. We passed many school kids riding their bikes to school, books in hand. Education is only compulsory to primary school level. After that kids can go to high school if there is one locally, or become a monk.
Many of the bikes in Lao are fitted with a rear seat and foot-pegs for a passenger. This very practical adaptation makes them equivalent to unicycles in their wheel:rider ratio. We pedal on through lush irrigated plains with a few small rolling hills. Pedalling up even these small hills was quite painful for me, and forced me to slow down a lot. I resorted to sliding my right foot forward on the pedal so that I was pedalling more with my heel. I had another Voltaren stop before the first rest stop at 20km.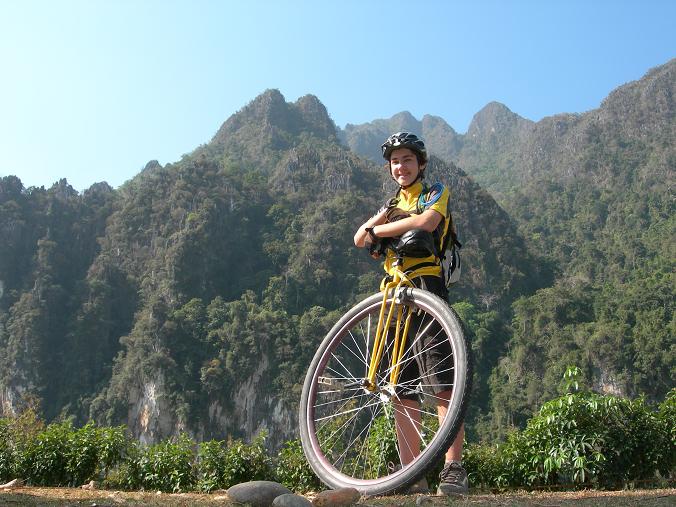 At the rest stop we enjoyed the dubious pleasures of some Asian lollies Jason had bought. We decided that the range of flavours was toxic orange, toothpaste mint and powerful aniseed. After applying more Voltaren, we tackled the only significant hill of the day – a 200m saddle.
I was riding with the Rocksteady Hoovers, Nathan and Beau, on the approach to the hill. When Nathan and Beau ride together they seem to maintain the same steady speed no matter what the terrain – uphill downhill or flat. As the hill got steeper I could feel myself slow down relative to the Rocksteady Hoovers. Luckily Beau offered me a hand and literally pulled me up the hill, easing the pain on my ankle immensely.

Sections of the following downhill were very steep and it was possible to build up some impressive speed on them. On a steep off-camber right hand turn I found myself fighting for control of my wheel. I was falling down the hill while the unicycle wanted to roll across the hill. In this case the unicycle won with me crossing on to the other side of the road and running out the crash. My heel hurt more after the runout.

I gingerly remounted and ride a few more kilometres before deciding that now my saddle was too low and my knees were starting to hurt. I stopped at a roadside sala to adjust my seat height. As I loosened the seat clamp bolt the thread stripped, producing a neat spring of soft aluminium coiled around the hard steel bolt. Bugger! This rendered my unicycle unrideable, so I sat down in the shade of the sala to await the sag wagon / truck.. My cycle computer told me I had ridden 32km at point. As the other riders pass by I took photographs of them.

Finally the truck turns up and I ride David's Coker for the next 8km to the second rest stop. These 8 kilometres seem to take forever. By this time in the day it was pretty hot, too. Just as I arrive at the rest stop I see everyone else leaving – how disheartening. Now I know how it feels to be at the back of the group. At this point David wanted his unicycle back, so I swallowed my pride and rode a bike for the next 18km to Vang Vieng. It wasn't such a bad thing to ride a bike – it was certainly less painful on my heel, and faster too. However as I pedalled my extra wheel and 24 gears across the baking hot plains, I was a much less remarkable sight to the local people. There were far fewer 'Sabidee's and fewer excited kids waving at me. Travelling by unicycle sure gets you a lot more attention!

The final kilometre to our guesthouse was the main street of Vang Vieng, which was undergoing roadworks in causual Lao style. There were potholes, exposed pipes, road workers and piles of gravel which blocked 90% of the road. This was an obstacle course in itself and added into that was the local traffic - numerous cyclists, motorbikers and the occasional tuk-tuk! Chaos.