LUT
Tour Blog
Photos
News
Info
Itinerary
Register
Riders
Equipment
Training
Charity
Links
Forum
Guestbook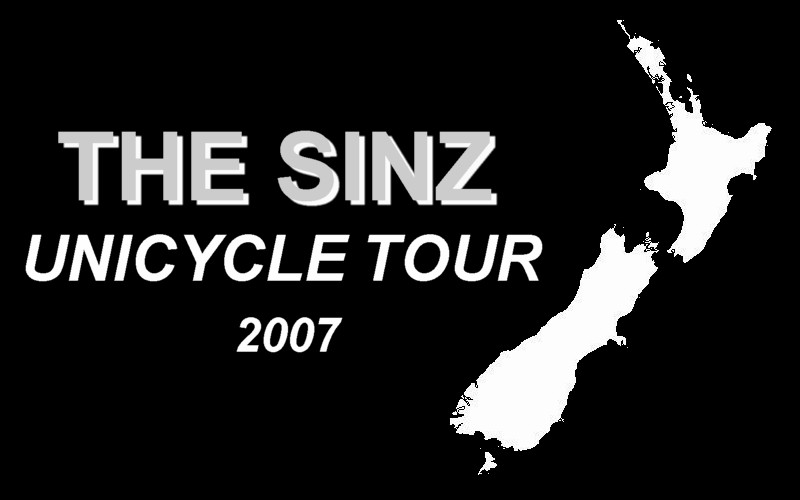 Day 9 Vang Vieng - Rest Day
by Nathan Hoover and Grace Fleming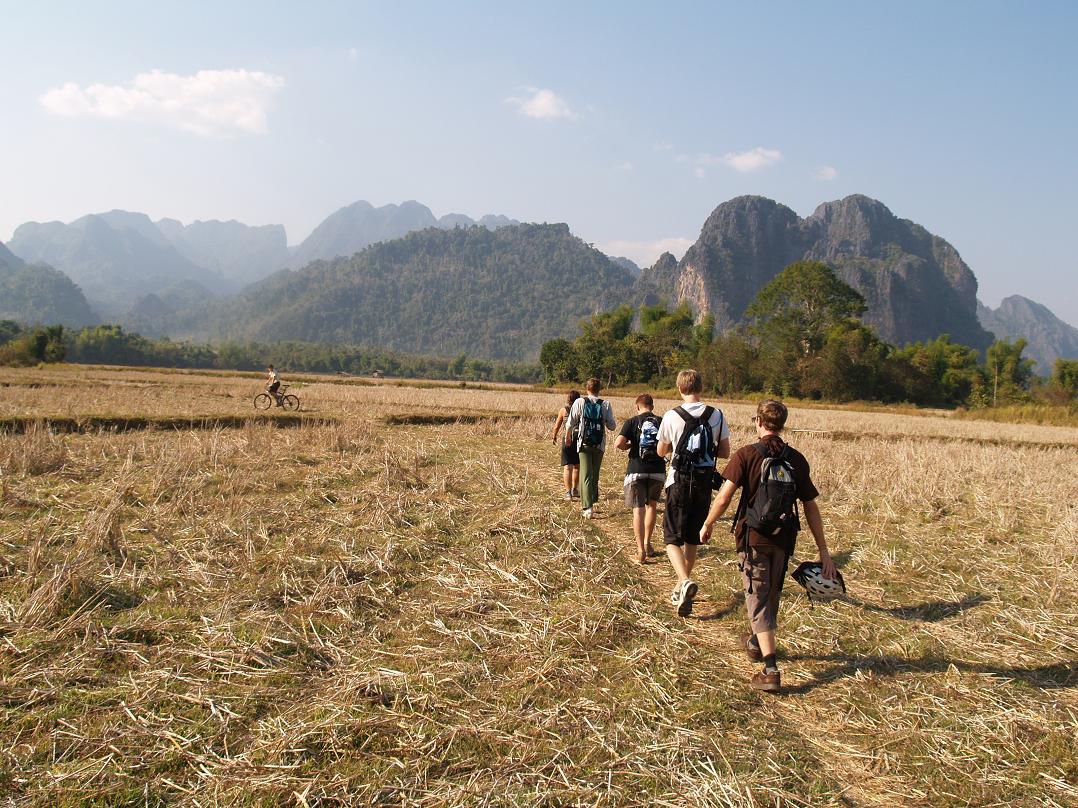 It was fantastic to have a day off after 3 days in a row on the unicycle. I think pretty much everyone slept in - I didn't even wake up until the super-late hour of 7:30AM. Grace bought us some pastries and we had "first breakfast" on the 3rd floor balcony. After that, we headed over to Pan's Place café for a "second breakfast". It was a long and liesurely affair with Thomas, Jesper and several others. It took quite a few orders of crepes and open toastie sandwiches to fill Beau up.

By the time we finished all that it was getting on towards 11am so we decided we had to do something. Rob and Mike headed off to go tubing, while a large group (Hans, Tony, Jesper, Gilby, Beau, Grace and Nathan) decided to check out the nearby Tham Chang. This is a limestone cave that can be explored for a modest 10,000Kip fee (or 2,000Kip if you're Lao). We crossed
a toll bridge to get there but it was only 2,000Kip each so didn't break the bank. The cave was closed for lunch, so we waited a peaceful hour at the open-air restaurant eating ice-cream and playing word games. David, John, Barry and Nick had just visited the caves and liked them.

Around 1pm, we paid our fee and climbed 147 steps up to the entrance. The cave was extensive, with nice lighting and paths through many chambers. We could go back at least 100m into the cliff. When a large group of noisy kids came in, it was time to go. Outside, we saw that a river emerged from a lower cave as the Australians had told us. The water looked SO clear and nice that we just had to go in. As we swam into the cave, the water was 2-3m deep and deliciously cool. We went back and back, darker and darker. Tony pioneered a route back
a LONG way under a very low ceiling. It was absolute pitch black, and of course we didn't have a light. By looking back towards the entrance, we could see a spot of light and could navigate by that. Finally the passage turned, and it was too scary to contemplate going further. When we came out, Grace had been watching our things, and of course she had to do it, so I swam in a second time with her.

After we packed up, we decided to head back to town using a more adventurous route, on the cave side of the river. We headed out and the trail quickly became a narrow little track through a thick jungle. After some wrong turns, Tony finally spotted a most excellent bridge of a few bamboo poles held together with bits of wire and bicycle tire over a creek that took us to some rice fields. This bridge has probably fallen away already - it was definitely on its last legs. But it held for us, and we continued on, finally (luckily) coming out right opposite the other
bridge back to Vang Vieng. The views of the limestone cliffs, huts, banana trees etc were just stunning all through this area. Hans paid 2,000Kip for each of us and we were back in town. Grace and I bought a couple more beautiful hand-woven silks at a shop by the river, then we had a late lunch at the Organic Farm Restaurant. It was excellent food, but the best part was sitting outside by the street with my 300mm lens taking photos of people passing by.

Jason happened along, carrying a suspicious looking pink cake box, and Beau immediately figured out what was up. Sure enough, when 6pm came, everyone gathered at the guesthouse. Jason came out with the cake and 14 burning candles and we sang Happy Birthday to Beau. He was up to the challenge of cutting the cake into 19 servings. Great fun. Afterwards, it was time for another meal. Seems like all we do is eat! We headed down to a Lao restaurant by the river that Jason knew but a karaoke party was in full swing so we ended up back in town at the Organic Farm Restaurant. Round 2 that day was great again, although it was crowded and dinner took a couple of hours. We had fruit shakes, curries of various types, soup and of course, Beer Lao. Since we had an early day tomorrow (pack the truck at 5:15am), we headed back to bed and were asleep before 10pm. What a great rest day!
More photos to come.....