Day 1 Chiang Rai to Huay Xai
The Laos Unitour group is complete.
Breakfast was an independent affair, with many heading down to the markets to see what they could find. Thomas and Jesper had rice and green beans and hot chilli for breakfast. Grace, Beau and Nathan resisted the urge to consume giant beetles this early in the morning so had purple rice pancakes instead. Tony had two mandarins with sweet sticky buns for breakfast. Bruce had noodle soup, whilst Florian had an English Breakfast of scrambled eggs and toast. You never know what you are going to find down at the markets!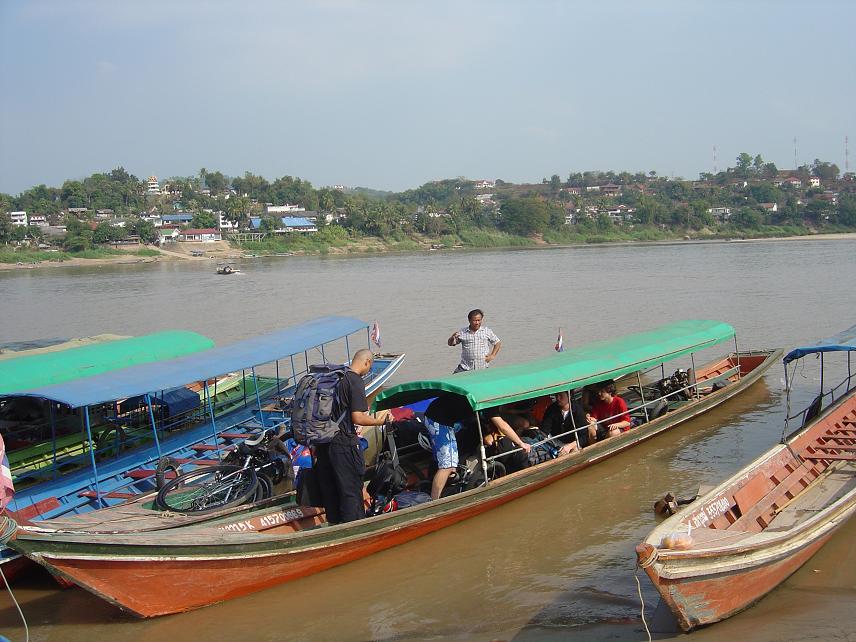 After breakfast we were loaded onto a bus, which detoured back to the airport to pick up Barry and Nick's Cokers. They had luckily arrived after being left behind in Sydney airport.
The two hour bus ride took us to the shores of the Mekong River. We had lunch at the little restaurant on the shore. The Thai sized portions were obviously not enough to feed our hungry band of unicyclists, with seconds and even third helpings being ordered.
After lunch, the unicycles were strapped to the top of the boats and we were shuttled across the Mekong to complete immigration on the Laos side of the river. This process took well over an hour. Many of our LUT riders became instant Millionaires $$$ when they exchanged their foreign currency for millions of Laos Kips.
We checked in to the hotel and split up into small groups to ride around town. Huay Xai became terrorised by unicyclists for the next two hours, with probably the first ever group of Unicyclists to come aboard these shores. We were chased up and down the streets by the local kids. You never know what is going to run out in front of you. Chickens, dogs, kids, motorbikes, more chickens and baby chickens and the occasional cat.
Those of us with energy left over went to the local pubs for the local "Beer Lao" which had very generous portions (640mL) for only a few thousand Kip. We also watched strange commercials on TV. Skin whitening cream, deodourents and shampoo seemed very popular in Laos.