Day 4 Luang Prabang to Kuang Sii Waterfall (60km)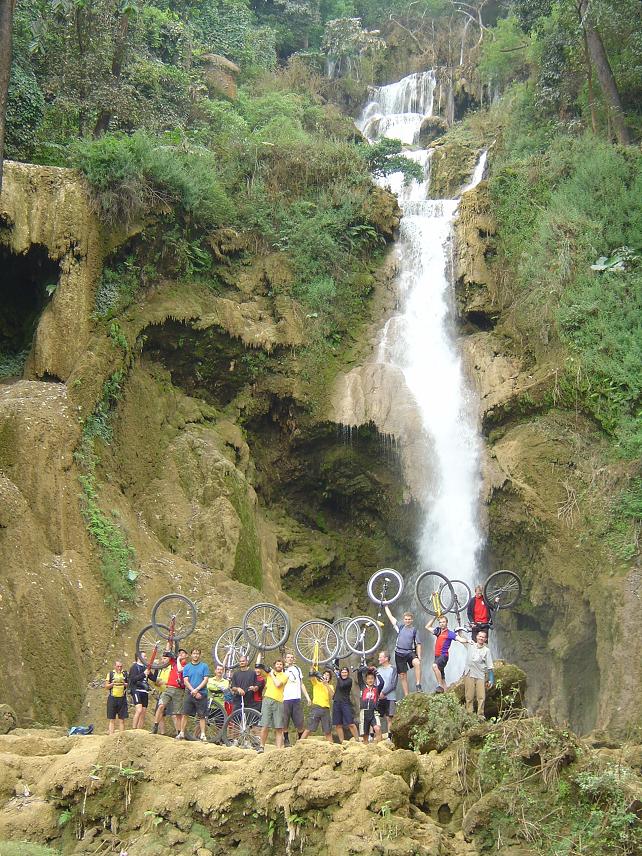 After two relaxing days going down the Mekong River, the LUT riders were itching for a ride. We had another hearty breakfast at the local eatery before setting off on the 30km ride to Kuang Sii Waterfall.
The busy streets of Luang Prabang went wild for several minutes as the riders head out along the main road. Kids yelled out from the side of the street: "Sabaidee Sabaidee!", whilst everyone else turned around to see what on earth was going on. The sight of 19 Unicyclists riding down these streets is probably not something they see very often.
The road quickly turned from tarseal to gravel as we headed out of town. It was a dusty trip through several villages. We marvelled at the wooden stilt houses and the very basic accommodation in these outer villages.
Everytime the riders stopped to regroup, we were swamped by dozens of locals wanting to try out our unicycles. The riders at the back of the group often found themselves riding through masses of children gathered on the side of the road waving.
We also became a tourist attraction for the tourists, as many foreigners started snapping photos of us riding past on the unicycles.
After an exhausting 30km ride, we arrived at Kuang Sii waterfall. We relaxed by the waterfall whilst sipping coconuts and having fresh rolls for lunch. Not content just to look at the waterfall, many riders took the opportunity to jump into the icy cold swimming hole to cool off from their morning ride.
We walked down the trail to look at several of the endangered bears and a tiger which lived near the falls. They had been rescued from animal poachers and were now living in the park.
After this we rode back to the guesthouse for a well-deserved shower. Most of us were caked in a fine layer of dust from the rough dirt road.
Several riders headed out to the night market to pick up some bargains. Silk fabrics and clothing, silverware, artwork and various other trinkets were intensely bargained for. Although you could question their effort of bargaining to save a few thousand Kip, only to realise later that they had saved a few cents.